Before going in depth on the Nationals 2019 recap. Here were our thoughts the day after the tournament:
"Random shoutout to all of the Spikeball crew who made nationals happen this year! Thanks for working so hard to make sure everything was setup and easy for players the day of the tournament. Everything seemed very well organized and simple yesterday. It was a fun vibe throughout the day and I think it's fair to say that the venue was perfect for nationals. Also to everyone who made the streams happen, I'm currently watching the finals in the airport and it looks great!!!! Kinda crazy to realize how far this sport where we hit little yellow balls has come so far, so again thank you!"
To say that Spikeball as a company delivered is an understatement. Starting with the venue that was selected: the Rivercity Sportsplex in Richmond, VA. This venue more than accommodated the 223+ teams that registered and participated the day of Nationals. The 12 lit turf fields also had serving lines on every single net which seemed to be a good addition for this event and just looked sick!
The day before the tournament, the first structured activity for anyone interested was the meetup at Byrd Park. In addition to getting some touches and playing pickup games there was also a free clinic with Pro Spikers. The clinic was led by Tyler Cisek of Cisek_Showalter, as well as Ryan Fitzgerald and Anthony Alvino of Anchored LI. 38 people signed up for the clinic ahead of time, but many more showed up and listened in while they were playing pickup games. 
The night before the tournament there was a welcome party and check in event at the Southern Railway TapHouse. Since it was sponsored by Landshark, there was free Landshark beer for anyone interested, as well as hor d'oeuvres. It was a fun gathering full of socializing as well as live interviews with players which was being streamed on Twitch.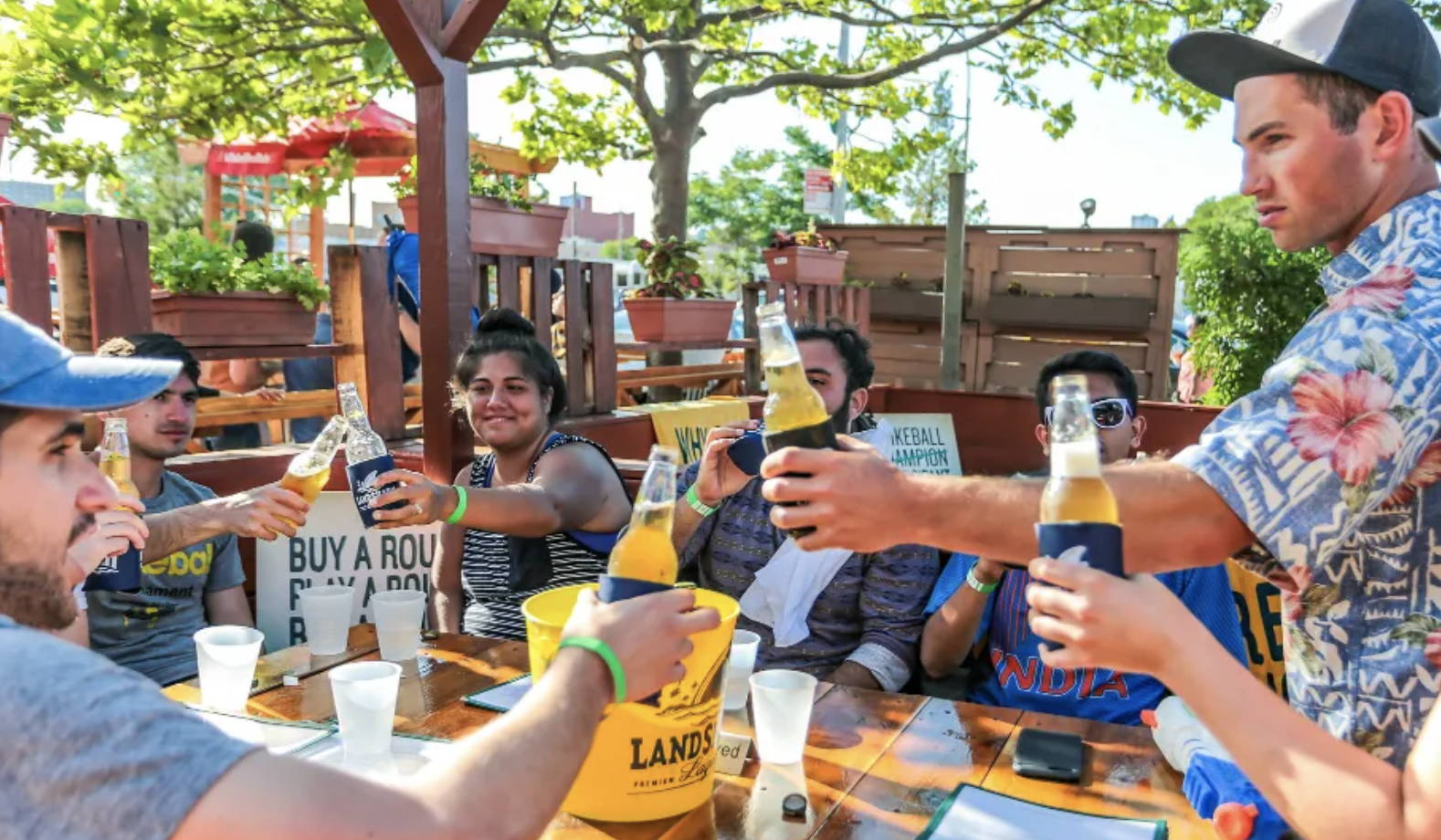 Before we knew it- it was Tournament Day! Before play officially began- Several awards were presented to people in attendance during the morning announcements. The first was the 'Gregg Quibal is the Man Award' (long story, Gregg seems to be a running joke on the Spikeball Roundnet Association Facebook Page) which was presented to Zac Vance. The second award was 'The Definition of Nasty' which was presented to Olivia Jenkins. Olivia seemed to be the breakout player of the year on the women's side, and now seems to be in the conversation of the best female player on the planet. Lastly, but perhaps the most admirable award of the three is the 'Growth of the Sport' award which was presented to Kayla Lariviere and Ian Donaghey who run Roundnet Ontario! Kayla recently mentioned that they have an office in their home which is solely dedicated to running Roundnet Ontario so she was excited that the award will look great in their office! :)
As play began, it was very noticeable how organized everything was in preparation for the event. Each division was located on their own turf field, with pools being posted on the outside of each field, and nets were allocated for each pool. Music was playing throughout the day on large speakers and could be heard throughout the Rivercity Sportsplex. In addition, several companies had tents setup in the "Vender Village" with fun activities like cornhole. After lunch there was live music for the rest of the afternoon which also helped set the vibe for a fun day! 
If we discussed each division of Nationals this article would go on for 10 more pages... the largest crowd of the day gathered for the finals of the Pro Division between Cisek_Showalter and Boysterous which is what we will spend time discussing.
A complete circle formed around the players, and to say the feeling was electric was an understatement! From criticizing observers (playfully), to spectators being nearly thrown out (again playfully), there were constant ooo's and ahhh's from the crowd. Boysterous took game one with clean play and outstanding serving 21-18. CS made a statement in game 2, came out hot, and were too much for Boysterous, they took it 21-15.
Game 3 went into extras and was tied at 20-20, there was a moment before the serve at 20-20 where it was dead silent and the crowd was on the edge of their seats. Eventually, after two strong serves from PJ, CS won 22-20 and took the National Championship. 
But the activities weren't done yet... the after party was held at Bingo Beer Co. where Spikeball again served up an outstanding spread of food and drinks which they covered for everyone! Lots of socializing and fun took place... including the Mini Golf Association for Roundnet People (MGARP). No it's not Magikarp from Pokemon, it's mini-golf! In the states, mini-golf after tournaments has become a fun thing to look forward to. About 1/4 of the people at the after party headed to play mini-golf after about an hour or two. Look for big things in the future from the MGARP! Overall, an outstanding, fun, joyful weekend, surrounded by cool people hitting little yellow balls. Til next time...
Final R

esults for each division can be found below:
1st: Cisek/Showalter - Tyler Cisek & Peter Jon Showalter
2nd: Boysterous - Preston Bies & Caleb Heck
3rd: Flexual Healing - Travis Core & Jarratt Rouse
1st: VA/CA - Becca Graham & Jordi Vigna
2nd: Overkill - Fred Crete & Nancy Gougeon
3rd: Trio - Ashley Gingerich-Showalter & Alli Kauffman
1st: Elysium - Brian Childs & Logan Cornelius
2nd: Slice the Mango - Max Billinghurst & Dawson Morgan
3rd: To Be Determined - Emerson Dean & Ravi Kandula
1st: Resto Druid - Matt Rucinski & David Thole
2nd: The Redeemed - Timmothy Melcher & Nicholas Melcher
3rd: Shgo - Logan Borg & Thomas Welch
1st: Incompetence - Ethan McWhirter & Luke Marshall
2nd: Beef Supreme - Jeff Aselin & Sean Berg
1st: Boom, roasted - Raquel Daming & Laura Dohm
2nd: Wahowa - Sophie Girgrah & Sam Conway
1st: MERICA - Katie Pierson & Tripp Pierson
2nd: Spike 757 - Joe Bondi & Ricky Perrault
3rd: Dynamix - Najee Boykin-Whittle & Dylan Chisholm
1st: Rubber Duckies - Kaitlyn King & Stephen Mayfield
2nd: CNU Naked - Daniel Downs & Galen Small
3rd: Spike Team 6 - Enzo Cicchinelli & Andrew Richardson
1st: RVA Spike - William Picone & Brayden Latham
2nd: The Salty Pretzels - Evan Yoder & Eric Coblentz
3rd: By By Spikers - Colin Yoder & Michael Barkman
Credit to Robert Austin for the majority of the photos being used in this article.